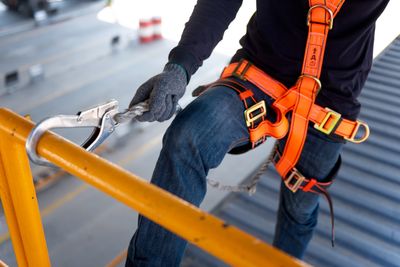 At Graham Construction Corp., our Safety and Environmental programs are success drivers on every project. We believe policies, procedures and training programs should be clear, simple and applied consistently. Graham Construction employees embrace these programs not only because they are required, but also because they understand their importance in our professional work as well as our personal lives. Our vision includes a confidence in developing an internal and external atmosphere that protects:
Our employees
Our clients
Our subcontractors
Our communities
Our environment
The property itself
And helps to avoid or mitigate loss
Our Safety Program highlights three main areas:
Management's commitments and procedures
Continuous improve in training programs and education
Follow-Through
From our President to our employees on site, our safety program connects us all.
The fundamentals of our programs include:
1. Management Commitment and Action
We employ a full-time director of operations who reports directly to the president. Our director of operations oversees all safety activities, supports and outfits initiatives that provide for continual improvements, enforces existing policies, and conducts standard inspections of jobs in progress.
2. Management Accountability
Our project managers and superintendents receive quarterly performance reviews, which focus heavily on safety performance.
3. Safety Program
We hold weekly safety/quality meetings on site with all Graham employees.
4. Orientation of New Employees
Every new Graham employee receives mandatory safety training. These sessions are offered weekly and monthly.
5. Site Meetings
On-site weekly meetings with current employees and subcontractors' are held to discuss major safety concerns.
6. Disciplinary Actions
Graham Construction warns employees when unsafe acts are witnessed it could mean cause for immediate removal from the job site.
7. Safety Permits
Hazardous areas and job sites are handled using lockout systems and permits to assure safety.
8. Incident Reporting and Accident Statistics
Each and every safety incident is immediately reported to the director of operations who regularly monitors incidents and safety data.
9. Informing Subcontractors
Graham Construction Corp. informs all subcontractors of regulations and principles during pre-award and pre-construction conferences and continually during weekly on-site meetings.